Lawman: Bass Reeves premieres this Sunday on Paramount+ (Nov. 5)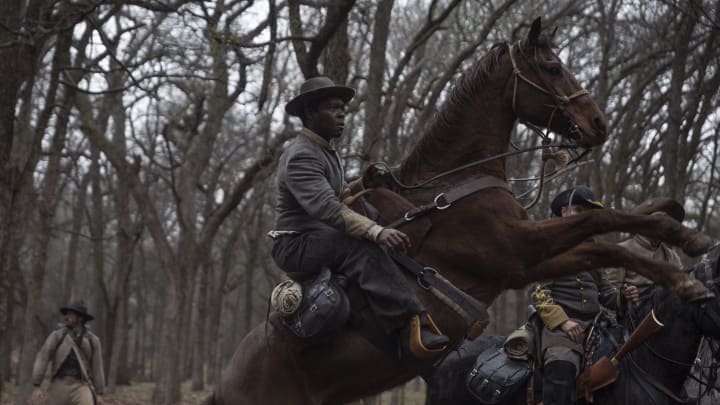 David Oyelewo as Bass Reeves in Lawmen: Bass Reeves streaming on Paramount+, 2023. Photo Credit: /
The finale of Yellowstone may be put on hold until 2024 but don't fret because you won't have to wait long to see the Yellowstone franchise grow exponentially. Taylor Sheridan is bringing a new story of American history and heroism to Paramount+ this Sunday as David Oyelowo stars as the one and only Lawman: Bass Reeves this weekend.
The all-new series will tell the legendary real-life story of the lawman who later became the inspiration for the Lone Ranger. This will be Taylor Sheridan's first look at a character with deep historical roots. Lawman: Bass Reeves is just one more phenomenal stat to add to Sheridan's arsenal of hit shows.
The series is set to premiere on Sunday on Paramount+ with back-to-back episodes. The weeks following will only air one episode a week until the season finale. The show is based onb the life of Bass Reeves who became the first black Deputy U.S. Marshal west of the Mississippi River. Reeves worked mostly in the Indian Territory and is responsible for over 3,000 criminal arrests according to some accounts. He was a sensational marksman and had detective skills that created one of the best Lawman to ever live.
I believe it is a story that needs to be told today for representation and history as well as for perseverance. We are at a time in history where so much bad is outweighing the good and Bass Reeves was a man that never succumbed to the times. Things were very bleak in history for men like Reeves but he was able to overcome and free himself from slavery to become a man still spoken of decades later.
For David Oyelowo filming Lawman: Bass Reeves was trying at times. He sat down with Digital Spy to talk about what it was like filming the show and what he had to step into.
"Sitting in history, and telling the truth of it, you have to give yourself over to some of the very difficult things Black people were subjected to in this country at the time. And that is emotionally quite debilitating. If I'm being honest. That has been the hardest and most surprising thing. I'm just so glad that in our narrative Bass doesn't stay there. He doesn't stay enslaved, he doesn't stay subjugated by the character played brilliantly by Shea Whigham to the likes of George Reeves in the show."

- David Oyelowo
In addition to David Oyelowo Lawman: Bass Reeves stars Lauren Banks as Jennie Reeves, Dennis Quaid as Sherrill Lynn, Donald Sutherland as Judge Issac Parker, Forrest Goodluck as Billy Crow, Barry Pepper as Esau Pierce, Grantham Coleman as Edwin Jones, Demi Singleton as Sally Reeves, and Garrett Hedlund as Garrett Montgomery. The series was created by Chad Feehan and Lawman: Bass Reeves had a wide range of talented executive producers Ron Burkle, David Glasser, David Hutkin, David Oyelowo, Jessica Oyelowo, David Permut, Taylor Sheridan, and Bob Yuri.
Lawman: Bass Reeves is produced by Bosque Ranch Productions, Yoruba Saxon, 101 Studios, Yari Film Group, and MTV Entertainment Studios.
There will be eight episodes of Lawman: Bass Reeves. You'll have your chance to see the legendary lawman come to life on television in two days. Episodes 1 and 2 will be released at 3:00 a.m. ET and 12:00 a.m. PT on Paramount+.