1883 is coming back this weekend for one more ride on Paramount Network
Hop on board the train one more time for Taylor Sheridan's spectacular Yellowstone Prequel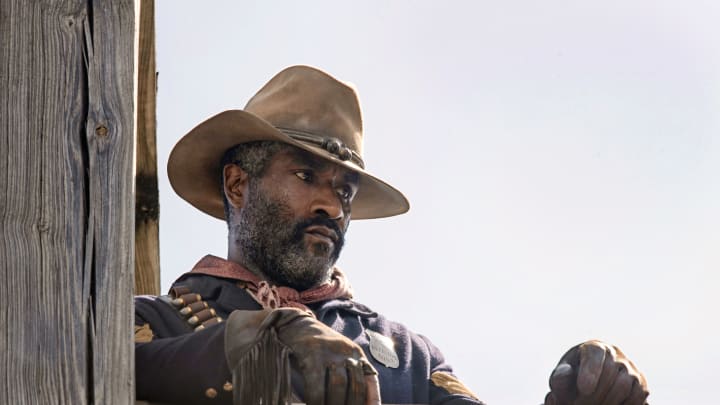 Pictured: LaMonica Garrett as Thomas of the Paramount+ original series 1883. Photo Cr: Emerson /
1883 had its debut back in 2021 and still remains one of Taylor Sheridan's greatest success stories. It became the most-watched show for the streaming network Paramount Plus which knocked the previous record at the time out of the water. The show brought in 4.9 million viewers and this weekend those who have not gotten to see this tale of the Wild West have another shot to jump aboard. Paramount Network will be airing a two-episode premiere on Sunday at 8 PM ET. Don't miss your chance to see one of Yellowstone's best.
For those of you who have seen Yellowstone but have not yet seen 1883, you don't know what you're missing. Firstly you have the opportunity to see how the Dutton family originated. You can also put together the family history and witness attributes that some characters from 1883 and Yellowstone share. It's fun to connect all those ancestral dots.
What is 1883 about?
1883 follows the first line of the Dutton family across the treacherous lands of the United States. In a time where death was lurking every step of the way. Everyone wanted to travel out west for a better life and James Dutton was no different. The story follows James Dutton(Tim McGraw) and his wife Margaret Dutton(Faith Hill) along with their two children to escape the poverty in Texas. They set out on a journey to the Great Plains in hopes of a better future.
Along the way, you will grow to understand the roots of the Dutton family much greater and meet fabulous other characters who helped the Dutton family reach Montana. A place that they still call home to this day. Both LaMonica Garrett and Sam Elliott make huge impacts on this show with the characters of Thomas and Shea as they formed an unlikely friendship and became brothers.
The one character that really sets herself apart from the rest is Elsa Dutton (Isabel May) who portrays the daughter of Margaret and James. Hold onto your hats because she is a pistol. This was a time in history when you are supposed to act like a lady above all else and women were supposed to "know their place." But that is not a sentiment Elsa Dutton believed in.
She didn't want to be one of the men but she knew she was just as capable as them. Though she loved her mother she didn't want to be like her. Elsa knew she could herd cattle with the best of them and wasn't going to sit around waiting on the men. She could be just as good, if not better. Headstrong, loyal, and as free as a bird. In watching her you will get the sense of where Yellowstone's Beth Dutton acquired her fierceness from. Isabel May's narration is also some of the best you will see on television. Her strong southern accent is mesmerizing.
Some other notable stars you will have the pleasure of seeing in this Taylor Sheridan western thriller are Billy Bob Thornton, Rita Wilson, and Tom Hanks. Even the man Taylor Sheridan himself makes a small cameo. This weekend will be the first airing of 1883 on Paramount Network. Following the 2-episode premiere, the rest of the 10-episode series will follow every Sunday. You can always watch the full series on Paramount Plus anytime.